We're down to 2 days left of school... so I've been busy putting together end-of-year gifts for my students, my son's classmates, my son's teacher and my co-workers. Here's what I've come up with.
For My Students.
"Don't forget to be a STAR reader this summer" cards with a Starburst attached. Easy peasy for sure. I started printing them in color... then I realized the kiddos will probably just throw the card away so I printed the rest on some cheaper colored cardstock I had lying around.
For My Son's Classmates.
Bouncy balls. I liked the phrase "have a BALL this summer". My son liked "BOUNCE you later". So I made them both.
And because I absolutely adore how they turned out, I'm sharing them with you. You can even edit them to include your own signature for the back side.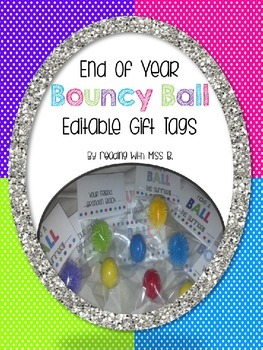 For My Son's Teacher.
Being a first year teacher that has faced many challenges during the year, I figure she deserves some serious pampering. So I put together a "Gift of Relaxation" basket for her. Included are: lotion, bubble bath, body wash, candle, soft slipper socks, loofah, soothing eye mask, yummy chocolate and a card expressing many "thanks"! It's the least I could do for all she's done for my son this year.
For My Co-Workers.
"Have A KOOL Summer!" quotes attached to a packet of kool-aid. No, I'm pretty sure most of them do not drink kool-aid but honestly, it's cheap and there's a lot of people to make them for so I just went with it. Plus it's cute.
I made some quick cards and just stapled them to the front. If I still had some creative juice (and extra time!) left, I would've attached them with ribbon... but I think it's still cute the way it is.
Just a few days left until summer break begins. So, so exciting!!